Simplelicious
Für dieses Produkt ist der Verkäufer

Paranoiax
inhaltlich verantwortlich.
Beschreibung
Minimal One-Page-Portfolio
Valide xHTML / CSS
Easy One-Page Setup File
18 Color Schemes
Rich Typography through Google Font API
Smooth Scrolling
jQuery FancyBox Gallery
jQuery / PHP-Contactform
This portfolio is designed to make your life a little bit less complicated.
There's a well documented configuration file included, in which all of
your adaption takes place. You will never need to touch the code.

Simplelicious comes with 18 possible color schemes:
2 contrasts (light & dark)
and 9 colors (monochrome, orange, pink, purple, blue, cyan, green, yellow and red)
PHP 4 required!
Screenshots
Screenshot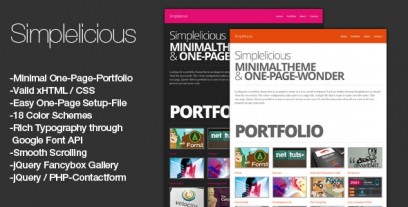 Clandesign übernimmt keine Gewähr für die Vollständigkeit oder Richtigkeit der Angaben
Produkt ID:
#3042
Produktname:
Simplelicious
Verkäufer:

Paranoiax
Status:
gewerblicher Verkäufer (Kleinuntern. §19 UStG)
Dabei seit:
29.11.2009
Produkt:
Templates
Kategorie:
HTML, PHP, CSS
Max. Breite:
590px
Hits:
38082
Eingestellt am:
30.11.2011
Letzte Änderung:
30.11.2011
enthaltende Dateien

Alle Dateien als Archiv
.zip

Installationsanleitung
.txt
Bezahlmöglichkeiten
---
---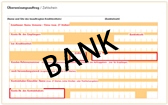 Preisklassen
15€*
135€*
* Gewerblicher Verkäufer(§19):
Es fallen keine Steuern an.
** Gewerblicher Verkäufer:
Preise inkl. 19% MwSt.